FEBRUARY 2021 SCHOLAR SPOTLIGHT
2003 Scholar Alysha Stehly Fulfills Grape Expectations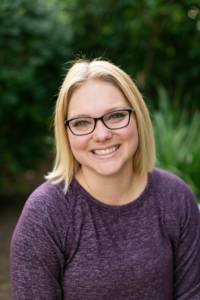 Long before she was of legal age to imbibe a local varietal from Escondido's Vesper Vineyards winery, which she co-founded in 2008 with her husband, Chris Broomell, Alysha Stehly was deeply rooted in agriculture.
Growing up in Valley Center as an active FFA student, she was immersed in her family's grove operation; ultimately branching out to grapes.
Alysha put her $5,000 Don Diego scholarship to excellent use at UC Davis majoring in Viticulture and Enology. She then combined her science-based expertise with her husband's hands-on experience to build a statewide reputation as one of 2014's "Winemakers
to Watch." Vesper takes advantage of the county's diverse microclimates to offer rosé, alcalá, picardan and other fine wines.
Beginning in 2010, Alysha has shared her passion and knowledge with a new generation by teaching Viticulture & Enology at MiraCosta College. She recently won California Farm Bureau's prestigious Excellence in Agriculture award for her agricultural leadership activities. She and Chris have also been personally fruitful; their son Cole was born in 2017 and a new baby is on the way.
While making her mark in the wine world, Alysha came full circle with Don Diego by joining the Board. She says, "Having benefited from a scholarship that helped propel me to success, I enjoy being able to support ambitious students who are pursuing their dreams."
Perhaps one will follow in Alysha's footsteps and achieve "grape" success!