SEPTEMBER 2021 SCHOLAR SPOTLIGHT
2017 Scholar Hannah Gill is a Servant-Leader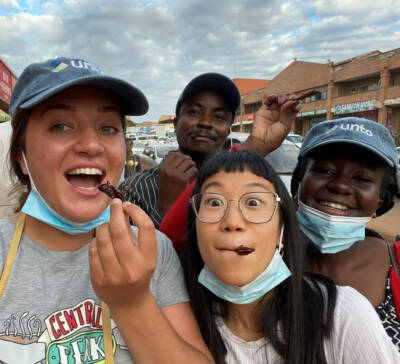 In 2017, Hannah Gill's 4-H leader lauded this Valedictorian's integrity, quipping she'd trust Hannah with her bank account; her treasured Thunderbird; even her first-born-grandson.
After winning a Don Diego scholarship, graduating from Cal Poly SLO with a degree in Animal Science and minors in Agriculture Leadership and Biotechnology, teaching agriculture in Malawi, and returning to Ramona to join an innovative biotech, Hannah has proven eminently worthy of that praise.
No stranger to adversity, at an early age Hannah surmounted what she called "heart-wrenching challenges" with an extraordinary equanimity and buoyant determination reflecting maturity far beyond her years. In high school, she lost her beloved Boer goats to a devastating barn fire and dealt with daunting financial issues. Most recently, her trip to Africa was cancelled one day before her scheduled departure. Fortunately, before she unpacked, a way was found for it to be reinstated.
Hannah is the type of person who always finds a way; energetically forging her own path. She acquired her current position by proactively reaching out to present herself and her outstanding qualifications. In addition to her job, Hannah helps her family with their AirBnB, assists her youth pastor boyfriend at his church, and serves as Sheep and Goat Group Leader for the Ramona 4-H club that nurtured her.
Whether showing Malawi residents how to create a compost pile, introducing visitors from around the country to her family's alpacas, or teaching young 4-H'ers about the joys and responsibilities of caring for animals, Hannah Gill is an inspiration to all who know her.