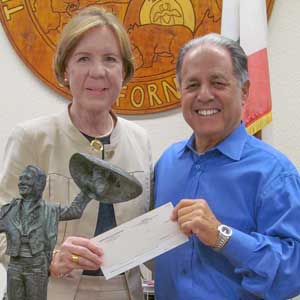 9/28/16
Del Mar, CA …    The Rancho Santa Fe (RSF) Foundation, a charitable giving organization renowned throughout San Diego County for impactful philanthropy that addresses an array of needs within communities, has donated the entirety of its college scholarship fund totaling in excess of $27,000 to the Don Diego Scholarship Foundation.
RSF Foundation Executive Director Christy Wilson presented the check to Don Diego Foundation Chair Jon Liss at the September 26, 2016 Don Diego Board meeting and she was congratulated for her Foundation's vision and generosity.
"As a longtime attendee of the San Diego County Fair, I've been impressed with the history of Don Diego," Wilson told the Board. The divestment will enable the RSF Foundation to focus on its core objectives with the certainty the money will be used to advance Don Diego's robust educational scholarship and grant programs.
She stated, "We look forward to staying close to the accomplishments of the Don Diego Foundation and the students you support."
On behalf of his Board, Liss thanked Wilson, saying, "We are overwhelmed by the RSF Foundation's largesse. We greatly appreciate the trust it has placed in us to utilize this major donation to continue building a better San Diego, one scholarship at a time. Since our inception in 1986, we have evolved and expanded in terms of the category, amount and number of annual scholarships awarded." Liss confirmed that by unanimous Board approval, Don Diego will again offer $44,000 in scholarships in 2017.
For 35 years, the Rancho Santa Fe Foundation has pursued its mission of connecting donors with regional and global needs through visionary leadership, personalized service and effective grantmaking. From healthcare to veterans services to the performing arts to affordable housing and more, the RSF Foundation has bettered the lives of thousands of individuals and families while enhancing our area's quality of life. More information is at www.rsffoundation.org.
The Don Diego Scholarship Foundation was named for Don Diego, AKA Tom Hernandez, who served as the Fair's welcoming goodwill ambassador from 1947-1984. Since its inception in 1986, the Foundation has awarded approximately $797,000 in scholarships to 177 students and in agriculture education grants. Information on Don Diego's history and the Foundation's current programs and donation opportunities is at staging.dondiegoscholarship.org and www.facebook.com/DonDiegoScholarship.