OCTOBER 2021 SCHOLAR SPOTLIGHT
It All Began for 2014 Scholar Tori Laird with a Few Chickens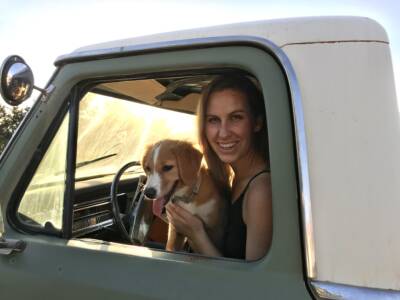 "Can I please have some baby chicks," six-year-old Tori Laird begged her parents. So began an animal passion that morphed into a Valley Center menagerie replete with horses, pygmy goats, turkeys, guinea fowl; even an emu. It evolved to encompass Tori's deep commitment to utilizing agriculture to benefit individuals, communities and the world.
Today in her mid-20s, armed with a B.S. in Agribusiness from Cal Poly SLO, a Master's in Agriculture Economics from Kansas State University, a career as an Economist for the Kansas State Department of Agriculture, and a potent mix of knowledge, competency and zeal, Tori is on the cusp of fulfilling her dream of making an impact through agriculture on a local and global scale.
That's a big vision, toward which Tori has taken a huge leap. Out of 2,000 applicants from around the world, she was selected as one of only 100 youth leaders to help "Feed a Hungry Planet" at Bayer's 2021 Youth Ag Summit. She notes, "Both urban and rural food deserts exist here in Kansas. It's a strange and unacceptable irony that Kansans who are feeding the world cannot adequately feed themselves."
Tori's ambitious project maps out food deserts in Kansas. She explains, "By identifying weak links in the supply chain, I want to implement a community-based program that meets people's expressed needs. The Summit will help me turn my vision into a reality through developing my leadership skills, connections, and resources for my project with 99 like-minded delegates."
Tori has followed her passion with earnest enthusiasm to Australia, New Zealand, Napa, and now Manhattan, Kansas. It's no surprise that this agriculturist, economist and changemaker says traveling is high on her "to do" list. She has already traveled a long way toward being the change she is determined to see in the world.