MAY 2021 SCHOLAR SPOTLIGHT
2011 Scholar Brett Huff Vaults to New Heights of Achievement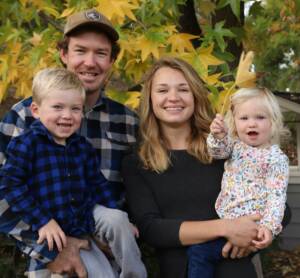 When Brett Huff was growing up, "Don Diego" meant the Fair's debonair ambassador, who escorted his mom around the Fairgrounds when she was 1976's Miss Ramona.
In 2011, the name gained new meaning for him. A $5,000 Don Diego 4-H scholarship propelled this gregarious high-achiever to Iowa's Dordt University. There, he earned a B.S. in
Agriculture/Animal Science, married his wife, Siera, and became immersed in animal genetics-based biomedical research.
Recently, Brett returned to Ramona with his wife and two children. Ambitious as ever, he is continuing the family water business
and planning to start a cow-calf operation on his bucolic, 10-acre property.
A champion high school pole vaulter, Brett says the leap from Ramona to Iowa catapulted his interests and broadened his experience and career options. He explains, "The scholarship helped significantly, enabling me to seek opportunities in the Midwest I would otherwise not have had."
Brett made the most of every opportunity, just as he did as an avid young 4-H student. While in college, he served as a ranch hand helping manage 250 head of cattle. He later worked for a company focused on genetically modifying pigs in the search for cures to diseases such as cystic fibrosis.
When awarding this standout student-athlete the 2011 scholarship, the Board stated, "Brett Huff exemplifies precisely what Don Diego Scholarship Foundation was created to recognize and reward." Those words are as true today as they were ten years ago.