5/9/13
DON DIEGO SCHOLARSHIP FOUNDATION HONORS FOUNDER ROBERT SPANJIAN BY ESTABLISHING SPANJIAN FAMILY SCHOLARSHIP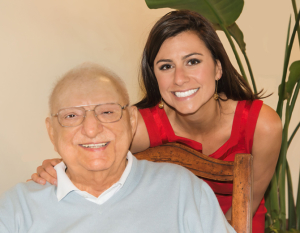 Del Mar, CA …      The Don Diego Scholarship Foundation has created an endowment Spanjian Family Scholarship to create an enduring legacy honoring Robert Spanjian, a Don Diego founder who has served as Secretary-Treasurer since the Foundation's establishment in 1986. A nonprofit arm of the San Diego County Fair, the Don Diego Scholarship Foundation is sponsored by the 22nd District Agricultural Association, on whose Governor-appointed Board of Directors Spanjian served as President and member from 1988-1992.
Propelled by Spanjian's vision, passion for education, leadership skills, business acumen and continued financial support, the Foundation has awarded more than $575,000 in college scholarships and grants for agricultural education since 1986. Typically, the Foundation annually awards four $5,000 scholarship to students in the categories of 4-H member, FFA member, Fair exhibitor and Fairgrounds employee.
Foundation Chair Paul Ecke III, also a founding Don Diego member, states, "We intend to use the Spanjian Family Scholarship to augment one scholarship each year, providing the 'crème de la crème' student with an added $5,000 Spanjian Family Scholarship for a total of $10,000.We hope to raise a substantial amount of money in Bob's name so we can fund this additional $5,000 per year contribution to an exceptional student's education in perpetuity." Ecke says past recipients are currently matriculating at MIT, Stanford and other prestigious universities around the country. Many return to the San Diego region to make a difference in their community.
Spanjian Family Scholarship donors can make a one-time gift or multi-year pledge by contacting Ecke at paulecke3@icloud.com or Executive Director Chana Mannen at cmannen@sdfair.com or 858-792-4210. Donors will be recognized at the June 15, 2013 Don Diego Dinner and Steve Miller Band Concert Gala at the San Diego County Fair and in publicity.
Expanding a Legacy of Excellence
It is no stretch to say that Spanjian's penchant for visionary innovation began as a young adult when he and his brother, Richard, entered their parents' fabric design business after their father suffered a heart attack in 1946.
Knowing the Spanjians excelled in knitting, DuPont approached the family-owned Chicago business in 1955 with a stretchy piece of fabric dubbed Fiber K, seeking help in development. The Spanjians developed what became an iconic material now worn ubiquitously throughout the sports world, inventing machinery to process the revolutionary apparel. In appreciation, DuPont named the fabric in their honor. Thus, Spandex – which also is an anagram of the word "expands" – was born. It continues to reign supreme under many labels.
Based on Spandex, Spanjian Sportswear became a leader in its field, producing uniforms for hundreds of college and professional teams, including the Chicago Bears and San Diego Chargers. The brothers eventually moved Spanjian Sportswear to San Marcos, and Robert Spanjian and his wife, Betty, raised a family in Rancho Santa Fe. They sold the company in 1985.
Spanjian quietly but energetically applied his fabled leadership skills to improving the fabric of life in his community by donating time, talents and money to charitable causes in San Diego County. After the 1984 death of Tom Hernandez, Spanjian spearheaded an effort to hire an artist to sculpt the Don Diego statue that continues to welcome visitors to the Fairgrounds. In addition to his service with Don Diego and the 22nd District Agricultural Association, he served on the board of the President's Executive Council for Cal State San Marcos, on the Board of Overseers for UCSD and also was founder and president of San Marcos National Bank, 1985-1994.
Chana Mannen, who has served as Executive Director of the Don Diego Scholarship Foundation since its inception, says, "Throughout his years of service to Don Diego, Bob has always relished his role in interviewing finalists for the annual scholarships. He has frequently dipped into his pocket to fund the education of an additional student who impressed him. He has been a true friend of the Foundation and the Fairgrounds, and has contributed greatly to the quality of life in our region. We are very happy to create this tribute to Bob in a format that has always gratified him immensely: providing scholarships that help transform the lives of outstanding students who one day may transform their community, and perhaps the world."
The Don Diego Scholarship Foundation has awarded more than $575,000 in college scholarships and grants for agricultural education since 1986. The Foundation was named after Tom Hernandez, who served as the Fair's goodwill ambassador from 1947-1984. Annual scholarships support students who are ambassadors for the county, academically and through their achievements. Funds are raised through an annual gala, the Amigo Club, which offers entrance to year-round Fairgrounds events for just $99, and donations. For more information, please visit staging.dondiegoscholarship.org and follow Don Diego at http://www.facebook.com/#!/pages/Don-Diego-Scholarship-Foundation/140722662654337.                                                                    #30