7/5/12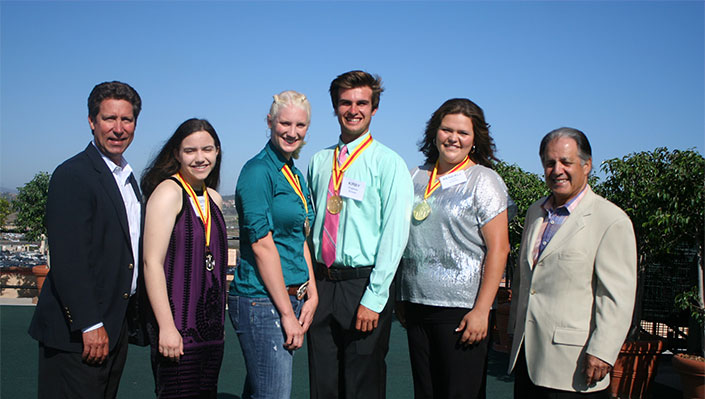 Del Mar, CA … More than 170 people enjoyed a rockin' and rollin' evening at the June 28, 2012 Don Diego Scholarship Foundation's Dinner and Concert Gala at the San Diego County Fair.
The SoCal-perfect summer night made an ideal setting for this event whose proceeds support annual $5,000 scholarships to outstanding San Diego County high school seniors who have participated in the San Diego County Fair and/or other activities associated with the Del Mar Fairgrounds. From pre-dinner festivities through VIP seating for the Creedence Clearwater Revisited (CCR) concert, Gala-goers and event organizers agreed that the evening was a noteworthy success.
The four 2012 scholarship recipients mingled with donors before the gourmet dinner at the Turf Club while guests enjoyed a wine tasting provided by 2003 Don Diego scholar Alysha Stehly and her husband, Chris Broomell, owners of Valley Center-based Vesper Vineyards (www.vespervineyards.com). Vesper also provided a gift basket for the silent auction, which featured a number of autographed collectibles, including a Phil Mickelson winning PGA 18th pin, Wyland print and Grandstand performers' guitars. A rollicking "Raise Your Bid" auction culmination increased the pool of funding intended to enable the Foundation to provide additional scholarships in 2013.
According to Don Diego Board Chair Paul Ecke III, "This year's scholars represent the crème of the crop in terms of their academic achievements, talents, and, most of all, their drive."
Both RaeAnne vanTol of Ramona and Kendall Lynch of Lakeside will major in Animal Science at Cal Poly San Luis Obispo. La Jolla High graduate Meredith Lehmann will attend Stanford University. Point Loma High graduate Kirby Challman will move just a short distance geographically to Point Loma Nazarene, yet the scholarship will help him move forward a long way in his career and life. He noted, "As a Fair gate-greeter, I was able to realize the impact I could have on others. The Fair allowed me to find my true potential, which I can now pursue."
2003 Scholarship Recipient Says Don Diego Helped Her Achieve Her Dream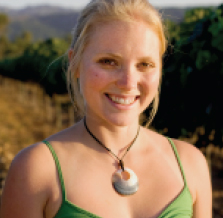 In a heartfelt presentation, Stehly, progeny of a citrus farming family, credited the Foundation scholarship with helping her realize her dream "to return to my agricultural roots in San Diego County and keep farming viable and profitable."
Recalling her Don Diego-supported matriculation at UC Davis, she quipped, "Scholarship funds made the quarterly trips to the campus bookstore less painful."
Looking back on what she achieved ("Who would have guessed 15 years ago that today I have more demand for wine in kegs than I can supply!")and ahead to a bright future for the 2012 recipients, Stehly said the Foundation means more than just scholarships. "It supports the future of agriculture by encouraging students to pursue educational opportunities that will sustain the industry into a new era."
Ecke commented, "It was hard to top Alysha's inspiring words, but the ensuing CCR concert had everyone up and rocking. This was not your ordinary fundraiser," he said. "In keeping with the 2012 Fair theme, it was definitely out of this world!"
The 2012 Don Diego Scholarship Foundation Gala was made possible with the following support: platinum level, Del Mar Thoroughbred Club; gold level, Betty and Bob Spanjian, Jon Liss, Leichtag Family Foundation, Sycuan Casino; silver level, Premier Food Services, Susan and Michael Farrior, Kelly and Laurie Burt.
The Don Diego Scholarship Foundation has awarded more than $575,000 in college scholarships and grants for agricultural education since 1985. The Foundation was named after Tom Hernandez, who served as the Fair's goodwill ambassador from 1947-1984. The scholarship supports students who are ambassadors for the county, academically and through their achievements. Funds are raised through the annual gala, the Amigo Club and donations. For more information or to make a donation, please visit www.dondiegofund.org.