February 5, 2018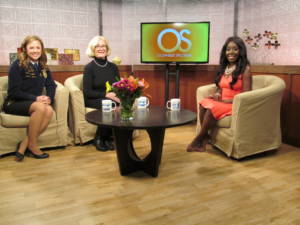 Del Mar, CA … Don Diego Scholarship Foundation is featured on KOCT's "Oceanside Spectrum" airing February 5-23, 2018 on TV and on-demand at www.koct.org. The program showcases the Foundation's connection with the San Diego County Fair and its 2018 program offering a record $73,000 in college scholarships to 35 outstanding students who reside in the San Diego area and have participated in the Fair or other activities associated with the Del Mar Fairgrounds.
In the show, KOCT host Elaine Swann welcomes Foundation Executive Director Chana Mannen and 2016 scholarship recipient Taryn Sehnert. Mannen highlights the application process, available at staging.dondiegoscholarship.org.
Taryn Sehnert, a 2016 Miss Fallbrook and longtime FFA leader, enthusiastically shares her love for the Fair and the many animals she has raised, leading to her desire to pursue an agriculture-related career. Having earned the National FFA American Degree, the highest honor bestowed by the organization, Taryn will transfer this fall from Mira Costa to her "dream school," the University of Nebraska. She says she is grateful to Don Diego Scholarship Foundation for helping to propel her education.
Mannen states, "Taryn represents the kind of exemplary student Don Diego is pleased to support. We are very appreciative of Elaine Swann and KOCT for helping us spread the word about the Foundation and our ambitious, idealistic recipients."
The Don Diego Scholarship Foundation was named for Don Diego, AKA Tom Hernandez, who served as the Fair's welcoming goodwill ambassador from 1947-1984.
To date since its inception in 1986, the Foundation has awarded approximately $862,000 in scholarships to 204 students and in agriculture education grants. More information is at staging.dondiegoscholarship.org and facebook.com/DonDiegoScholarship.