April 12, 2022; For Immediate Release
Contact: Chana Mannen, Executive Director, Don Diego Scholarship Foundation
858.792.4210; cmannen@dondiegosf.org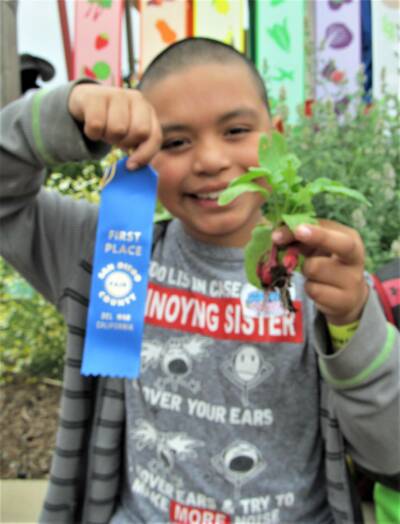 Don Diego Scholarship Foundation invites people to help plant the seeds for a lifelong appreciation of farm-fresh healthy nutrition by donating to its Plant*Grow*Eat (PGE) bus transportation program. You'll enjoy free publicity, VIP parking and admission to the 2022 San Diego County Fair on "your" day plus the heart-warming experience of sharing a memorable morning with students from Title 1 elementary schools from around San Diego County.
Each bus costs approximately $500. Donations of any amount are welcomed and appreciated. Learn more and give securely online or email info@dondiegosf.org.
In coordination with the Fair's PGE agricultural education program, Don Diego- sponsored buses bring students to the Fair's Infield Farm. They showcase their lovingly nurtured radishes, nasturtiums and other edible produce, receive a ribbon for their efforts, then scamper off to explore agricultural exhibits, get up close and personal with farm animals, and, for some, glimpse their very first view of the ocean.
Whether they grow a fat, red radish as big as a tomato or a teeny, tiny tomato no larger than a radish, the children are justifiably proud of their efforts. Before the Fair's pandemic hiatus in 2020 and 2021, one second-grader confided, "I don't like radishes when we get them from the store. But when I eat the one I grew, it tastes good!"
Bus sponsors – many of whom return year after year – have as much fun as the children whose agriculture adventure they make possible. Del Mar Foundation's Ira Sharp noted, "The judges take the time to praise each child. I love checking out their veggies and seeing the pure joy."
SDG&E's Morgan Justice-Black and Addie Woodard said, "Our donation is very well-spent. It's so cool to know that children are learning where their food comes from."
Don Diego Executive Director Chana Mannen, who as former Deputy Manager of the Fair created PGE, reports, "Parents accompanying their children have told me that they participated as elementary students and that the experience led them to develop an enduring love of gardening. We are confident that this year's crop of kids will reap a rich harvest in their life ahead, and we thank our donors for making this possible."
The Don Diego Scholarship Foundation was named for Don Diego, AKA Tom Hernandez, who served as the Fair's welcoming goodwill ambassador from 1947-1984. Since its inception in 1986, the Foundation has awarded $1,191,000 in scholarships to 298 students and in agriculture education grants. More information is at www.staging.dondiegoscholarship.org and www.facebook.com/DonDiegoScholarship.