1/19/14 Letter to Friends and Family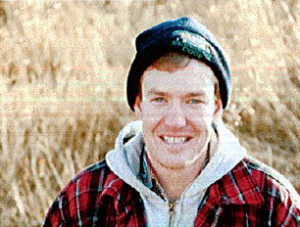 Dear Family and Friends,
Greetings from Iowa! I apologize that my update letter is arriving after the start of the new year. As you will read, this year has been packed with challenging classes, work, and A LOT of cold weather!!! I'm into my second semester, of my third year at Dordt College, and it seems like such a long time ago where I was a student at Christian High School, showing animals in 4-H at the San Diego County Fair and living in warm, sunny San Diego!
This Fall 2013 semester was intense. I took organic chemistry, physics, cell biology, economics, and communications. I love anything and everything related to chemistry, so I found I lingered in my o-chem and cell bio labs a lot longer than needed! I also discovered I don't like, but have an appreciation for physics.
In addition to my classes, I have been working at two genetics companies this year. I am working at Trans Ova Genetics for my third year as a calving herdsman. I oversee the birthing of calves either naturally, or by cesarean. I also took on a second job this year, working for genetics lab, Exemplar, which strictly works with swine. My resume is growing with work experience as I advanced towards graduation. A quick, funny story insert here: Just recently when we're having our "Polar Vortex" here in the Midwest, I was driving to one of my jobs, and my truck broke down. It was -33°… well, the truck was towed and I didn't lose any fingers or toes due to frostbite… and you will never imagine what had happened?! My California truck's California anti-freeze froze… never did I imagine as a kid growing up in San Diego County, that I'd be experiencing as much in the agriculture/science industry, and in the midwestern culture as I have these past 3 years. I really do consider myself blessed.
I'm rooming with two friends, who both happened to be agricultural majors, and one of my buddies designed a hydroponics garden in our living room at the start of school. We have been growing lettuce and broccoli all winter, and had the school administration investigate our little "science project." Satisfied we're not growing any illegal/legal crops, they deemed us the crazy ag nerds of Dordt. I can live with that. I am also in a relationship with the most wonderful girlfriend. Her name is Sierra, a Minnesota native and Dordt second-year social services major. She and I are both on the Dordt track team, I still pole vault, she runs track. Unfortunately I could not fit volunteering for the Awanas program at my church into, my schedule this year, however I am still planning on participating in Dordt's spring break missions outreach. This year I will be tasked with leading a group to Mississippi to work with inner city churches.
I was able to fly back only wants to San Diego, over Christmas break, and extended my stay to make time to enjoy the company of my parents and sister. It was wonderful to visit Disneyland, see friends, and just sit in the sunshine. I even went snorkeling and skimming with some childhood buddies, it was a great visit.
I am challenged by the semesters rigor and course work, and have my track season fast approaching. I am reminded daily that I served a loving God, who is orchestrated my schooling, and health pretty well thus far. He has whispered one particular verse daily to me this year, which I want to share: Proverbs 3:16, "Trust in the Lord with all your heart and lean not on your own understanding, but on God's understanding." So here I go, stepping out in faith, learning as much as I can under great professors at Dordt, great veterinarians at work, and leaning into the provisions of one great God. Happy New Year to all of you.
Brett Huff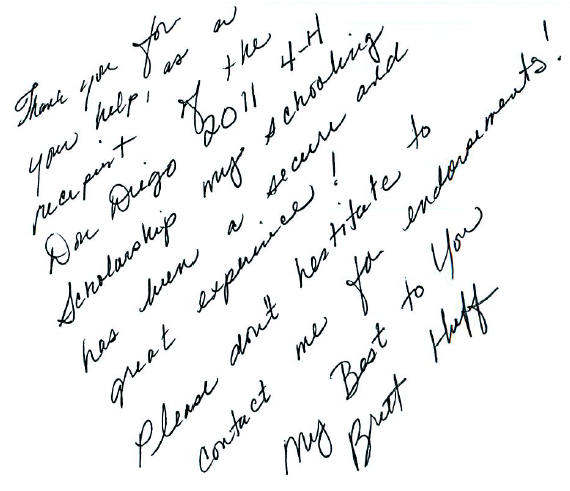 May 18, 2011 News Release
4-H, $5,000, Dordt College, Agriculture/Animal Science
Brett Huff of Ramona will venture to Sioux Center, Iowa to attend Dordt College and major in Agriculture/Animal Science after graduating with a 3.85 from Christian High in El Cajon. A champion pole vaulter who also participates in soccer, football and track, Brett learned to soar over obstacles at a young age when he used "endurance and perseverance" to overcome dyslexia.
He has been engrossed in 4H since the age of nine, when he recalls, "my love for raising animals was sparked." He notes, "Through 4H, I have grown in leadership, advanced in animal husbandry and developed a desire to make agriculture my career." Brett already has that mindset; in fact, this exuberant young man says his favorite part of showing swine, sheep and beef at the Fair is "staying up late loading animals with the staff."