APRIL 2021 SCHOLAR SPOTLIGHT
From Blue Ribbons to Blue Angels, 1999's Amber Lynn Scott Soars Beyond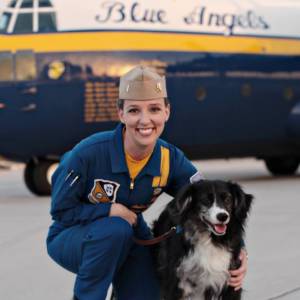 Today, Amber Lynn Scott is a highly regarded media/public affairs professional pursuing a PhD in Organizational Communication at USC's prestigious Annenberg School for Communication and Journalism.
It all began in Ramona where this gregarious talent grew up with her parents, two brothers and a menagerie that included horses, dogs, pigs, lambs, steers, rabbits, chickens, and goats.
"I had a pet turkey in my bedroom," Amber chuckles. "FFA and 4-H helped form my character starting when I was ten, showing lambs at the Fair. I celebrated my 16th birthday in a barn," she recalls, saying community support helped propel her success.
So did Don Diego. "The $5,000 scholarship was life-changing to me as a first-gen college student paying my own way. I graduated from Southern Oregon University with no student debt."
While in Oregon, Amber seized an opportunity to pivot into broadcast journalism, later earning an M.A. She has served as Public Affairs and Safety Officer for the world-renowned Blue Angels, worked as a journalist in the U.S. and Italy, served as Flag Aid to the Navy's top strategic communicator, and as White House Social Aide.
With her high-level military and civilian expertise plus deep desire to serve, it wouldn't be surprising to someday see Amber in the White House herself! For now, she and her fiancé frequently visit her family in Ramona, where she helps FFA students prepare for speech competitions.
"I am grateful for the opportunity to give back. Don Diego invested in me. Now I can help bring up the next generation of ag students."