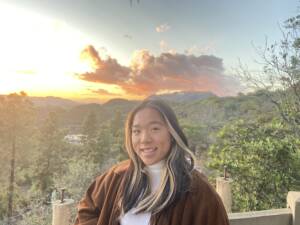 Allison Shao perfects the art of success across fields not typically envisioned together. Academics, absolutely. Volunteering, of course. Science and medicine, indubitably. Art- making, vibrantly. Exploring her new L.A. area environs with friends, without a doubt!
This stellar San Diegan who graduated in 2020 with a 4.26 GPA from competitive Canyon Crest Academy while excelling in sports, serving as a hospital intern, and heading her local library's arts and crafts program, captured Don Diego's top $5,000 Exhibitor/Participant scholarship.
An award-winning artist, Allison recalls, "I participated in the Fair's exhibit competitions starting at age five. It opened me up to a world of new inspirations. Now, as a sophomore at Occidental College finally on campus after spending my freshman year online at home, I'm never without my sketchbook. It's my way of taking a breather from studying and a way to express my emotions."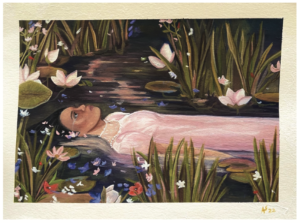 Those emotions are evocatively apparent in her artwork, such as a gouache entitled "Ophelia." Small wonder that one of Allison's Oxy joys is going with her newfound circle of friends to venues such as the Getty, LACMA, and Huntington Library.
This studious Biochemistry major and colorful "self-declared extrovert" is blooming. She says, "I love Oxy! The beautiful campus, small classes, accessible professors and expansive opportunities are wonderful. I am employed as an Organic Chemistry Teaching Assistant; this summer I will be a Chemistry Department Research Assistant. The experiences are helping propel me along my career path. I ultimately may earn an MD and a PhD, as I enjoy research," she says, noting that her chemist mother works for a San Diego start-up on the forefront of COVID-19 vaccine technology.
"I admire my mom's work ethic during this pandemic," says the daughter who has inherited that ethic. Focused on expanding her career opportunities and artistic capabilities, Allison is achieving a picture-perfect balance of school, art, friendship and fun.