May 23, 2018
Del Mar, CA… Don Diego Scholarship Foundation is elated to announce that it has awarded a record $72,500 in college scholarships to 30 exceptional students who reside throughout the San Diego area and have participated in the San Diego County Fair and/or other activities associated with the Del Mar Fairgrounds.
The students are dazzling in their diversity of talents and united by their desire to make the world a better place. They will be feted at Don Diego's Dinner and Kansas Concert Gala at the Fair on June 7, 2018 (tickets are still available) before heading to prestigious UC and Cal State campuses; highly regarded universities in Idaho, Kansas, Colorado, Wyoming, Hawaii and elsewhere; and even legendary Notre Dame.
Executive Director Chana Mannen, who has overseen the scholarship process since the Foundation's inception in 1986, reports, "This year's crop is amazing. We received the most applications ever. Our selection committee had the challenging task of evaluating qualifications and interviewing finalists; all outstanding and deserving. The cream of the crop rose to the top and we are proud to present our Class of 2018."
Scholarships at multiple levels were awarded in the categories of 4-H, FFA, Employee, Exhibitor/Participant, Vocational Education and Junior Livestock Auction participant.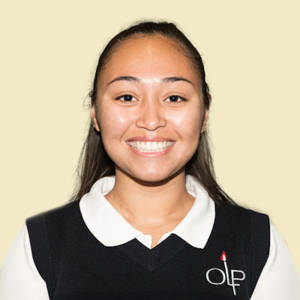 The coveted $5,000 Spanjian Family Scholarship was bestowed upon the most outstanding recipient: Angelina ("Gigi") Manasan, who also received the top $5,000 Exhibitor/Participant scholarship. Gigi, who lives in San Diego and graduates from the Academy of Our Lady of Peace, will use her $10,000 award to attend Creighton University in Nebraska, where she will major in Mathematics.
Don Diego Chairman Roxana Foxx notes, "Gigi's eclectic array of academic, extracurricular, work and volunteer achievements makes one ponder how this remarkable young woman can fit so many activities into her life and do everything so well – including hula dancing at the Fair! To know that she has accomplished so much while battling medical conditions is awe-inspiring. It's no surprise that this energetic, positive-spirited applicant was our unanimous choice to receive the Spanjian."
Gigi has empathetically shared her health challenges to inspire others, confirms Rady Children's Hospital Foundation Associate Director of Philanthropy Lauren Neiman. "Gigi is proof that one passionate person can make a difference in thousands of lives." In addition to advocating for organ donation, Angelina participates in hospital dance marathons and other fundraising programs. This stellar STEM student, dancer, actress, singer, tutor and speaking ambassador says, ""Performing Hawaiian Hula Dancing at the Fair exposed audiences to other cultures of dance, music and art while enabling me to win these two scholarships, which will make it possible for me to attend college. Thank you to the Fair and Don Diego!"
Hailey Baldwin of Fallbrook won the top $5,000 FFA scholarship as well as a $2,500 Jr. Livestock Auction scholarship for a total award of $7,500. Hailey, who graduates from Escondido High with a 4.2 GPA, will major in Agricultural Science at Cal Poly San Luis Obispo. Being an FFA leader opened Hailey's eyes internationally, she says. "I learned that by 2050, the global population is expected to grow to over nine billion people. Our society must be better educated about the importance of investing in agriculture, because this population is in dire need of a larger and safer food supply."
Tierra Mathews graduates second in her hometown Valley Center High class and will use her total $7,500 award to major in Animal Science at Colorado State University. She won top $5,000 4-H and $2,500 Jr. Livestock Auction scholarships. Excelling in academics and athletics, hardworking Tierra has served as a lifeguard, San Diego Zoo Safari Park clerk, veterinarian volunteer and in several other community and faith-based capacities. Teacher and 4-H advisor Nichole McGinnis calls Tierra "a shining star – always glowing and growing to be the light … constantly striving toward excellence … streaming toward her future with enthusiasm and commitment."
The top $5,000 Employee scholarship will propel Sabrina Drobeck of San Diego to UC Berkeley, where she will major in Biological Sciences. Graduating from Scripps Ranch High with a 4.6 GPA, Sabrina is a 14-year Girl Scout who has tutored Armenian, Iraqi, Syrian and Mexican refugee youth in English and Math while serving as a soccer and basketball coach. Sabrina began her longtime tenure as a Bridal Bazaar Model at the Del Mar Fairgrounds at age eight. This poised and articulate young woman believes, "The experience has helped me in every aspect of my life, school and work."
Additional Scholarships
Exhibitor/Participant
Autumn Kleinrath, Encinitas, $2,500, Notre Dame; Olivia Jarvis, Oceanside, $1,500, University of Hawaii; Courtney Reiter, Lakeside, $1,000, Ottawa University.
Employee
Cambria Osborn, San Marcos, $2,500, California Baptist University; Victoria Navarro, Fallbrook, $1,500, Palomar College; Briana Kier, Escondido, $1,000, Southwestern College.
Vocational Education
Hannah Lambert, San Diego, $1,500, Miramar Community College; Alyssa Hadix, Poway, $1,500, Fashion Institute of Design/Merchandising; Ella Sumagaysay, Poway, $1,500, Miramar Community College.
FFA
Tori Pedersen, Escondido $2,500 + $1,000 Jr. Livestock Auction, Cal Poly SLO;
Sydney George, El Cajon $1,500 + $2,500 Jr. Livestock Auction, SDSU; Marilyn Long, Oceanside, $1,000 + $1,000 Jr. Livestock Auction, Kansas State University.
4H
Katie Phillips, Ramona $2,500 4-H & $1,000 Jr. Livestock Auction, Boise State University; Anna Lonsway, Encinitas $1,500; UC Davis; Grace Parker, Escondido, $1,000; University of Wyoming.
Junior Livestock Auction
Alicia Trujillo, Pine Valley, $2,500, Purdue University; Katlyn Barath, Campo $1,000, San Bernardino State University; Megan Clodfelter, San Marcos, $1,000, Cal Poly SLO; Catalina Gonzalez, Ramona, $1,000, Reedley College; Collin Kooyman, Fallbrook, $1,000, Palomar College; Elizabeth Melott, Escondido, $1,000, Cal Poly Pomona; Hiram Olivarria, Jr., Campo, $1,000, Cal Poly Pomona; Reanna Paala, Ramona, $1,000, Community College; Alyssa Marie van Tol, Ramona, $1,000, Reedley College; Conner Watson, Lakeside, $1,000, UC Santa Barbara; Travis Woliung, Lakeside, $1,000, University of Redlands.
In addition to being celebrated at the Gala, each of the 30 Scholars will be honored with a Legacy Brick to be installed at the Don Diego Legacy Fountain at the Del Mar Fairgrounds. They will be highlighted on the Foundation's website and social media.
Chana Mannen says, "With nearly one million dollars awarded over the past 32 years, the Don Diego Board appreciates all of the generous donors who enable us to continue supporting idealistic future leaders of our community. Together, we are building a better San Diego, one scholarship at a time."
The Don Diego Scholarship Foundation was named for Don Diego, AKA Tom Hernandez, who served as the Fair's welcoming goodwill ambassador from 1947-1984. To date since its inception in 1986, the Foundation has awarded approximately $862,000 in scholarships to 204 students and in agriculture education grants. More information is at staging.dondiegoscholarship.org and facebook.com/DonDiegoScholarship.