Don Diego scholarship recipients are renowned for being ambitious, altruistic changemakers who make their mark and give back to their community after excelling in college and forging a career.
Scholar-Leader Edwin Vargas Navarro is already accomplishing all this while completing his freshman year at what he calls "my dream school: UC Berkeley."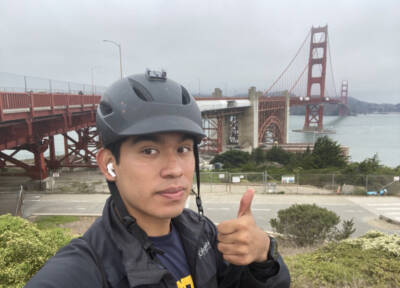 Edwin was Don Diego's unanimous choice to win the one-time, four-year, $20,000 Liss Family Scholarship in the FFA category plus a $1,000 Junior Livestock Auction Scholarship. Upon capturing this top honor, Edwin, an academic and athletic standout at Vista High, said, "I am deeply appreciative of my immigrant parents' sacrifices raising nine children, and want to show that the long hours my father worked in the strawberry fields were not in vain."
Catapulted to college, Edwin has not squandered a minute. Tackling a challenging 18 units, he maintains a 4.0 GPA, earning an A+ in his Math major while gaining admittance to Honor Society, co-creating an app-based social club, and "enjoying night hikes with friends, movies, archery, bike rides, runs, football games, and much more."
Edwin confirms, "My experience has been phenomenal and liberating. I've learned that If you want to excel in academics, friendships, club activities, and everything else, you put the necessary work and time into it."
This ultra-marathoner is also on the run to serve future college students. Edwin reports, "After completing this freshman year, I will be a paid Summer Bridge Ambassador and a First Gen Empower (FGE) volunteer. Summer Bridge, in which I participated last year, provides high school seniors accepted into UC Berkeley with opportunities and support. FGE helps high schoolers throughout California navigate the college process."
In everything mathematician extraordinaire Edwin does, he makes it all add up for himself and others. His success is bound to multiply!